Affordable French Translation in Dubai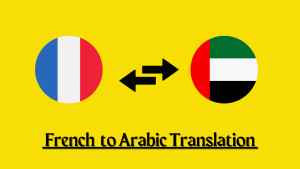 Our team of expert French translators offers high-quality, accurate, and affordable French translation in Dubai for all your documentation needs. Whether you are a business or an individual, we are here to help you communicate effectively with your French-speaking audience.
Our French translators in Dubai are native speakers with years of experience in the translation industry. They have a deep understanding of the French language, culture, and business practices, which enables them to deliver translations that are not only linguistically accurate but also culturally appropriate.
We offer a wide range of French translation services in Dubai, including legal, technical, medical, financial, marketing, and website translations. Our translators are subject-matter experts in their respective fields, which means that they have a comprehensive understanding of the terminology and jargon used in each industry.
At Frontline Translation, we understand that time is of the essence when it comes to translations. That's why we work around the clock to deliver your translations within your deadlines, without compromising on quality. We use the latest translation tools and technologies to ensure that our translations are consistent, accurate, and delivered on time.
Certified French Translation in Dubai
We also offer Certified French translation in Dubai for official documents such as passports, birth certificates, marriage certificates, and academic transcripts. Our translation services in Dubai are recognized by government agencies, embassies, and academic institutions worldwide.
At Frontline Translation, we are committed to providing our clients with the highest level of customer service. Our dedicated project managers are always available to answer your questions, provide you with updates on your projects, and ensure that your translations meet your expectations.
Whether you are a small business owner or a multinational corporation, we have the resources, expertise, and experience to handle your French translation needs. Our French translation services in Dubai are affordable and customizable, and we offer competitive rates for bulk and ongoing projects.
We are the trusted source for professional French translation in UAE. As a leading provider of language solutions, we specialize in translating all types of documents from French into English and vice versa. Whether you need legal, financial, technical, medical, or marketing translations, our experienced team of French translators in Dubai has the skills and expertise to deliver accurate and high-quality translations.
Our French Translation in Dubai includes:
Legal Translation:
Our legal translators have a deep understanding of the French legal system and can accurately translate legal documents such as contracts, patents, and court rulings.
Technical Translation:
Our team of technical translators are experts in translating technical documents such as manuals, user guides, and specifications. They have the necessary technical knowledge and industry-specific expertise to ensure that your documents are translated accurately and effectively.
Medical Translation:
Our medical translators are knowledgeable about medical terminology and can provide accurate translations of medical records, clinical trials, and other medical documents.
Marketing Translation:
Our marketing translators are skilled in translating marketing materials such as brochures, product descriptions, and advertising campaigns. They have a keen understanding of the target audience and can help you effectively communicate your message in French.
Website Translation:
Our website translators are proficient in translating websites and ensuring that the translated content is culturally appropriate and accurately conveys the intended message.
At Frontline Translation, we understand the importance of accuracy and confidentiality in our translation services. Our translators are bound by strict confidentiality agreements and we use secure file transfer protocols to ensure that your documents are kept confidential.
We are committed to providing high-quality French translation in UAE to our clients and beyond.
Get Quote Today to learn more about how we can help you with your French translation needs.