Certified True Copy Dubai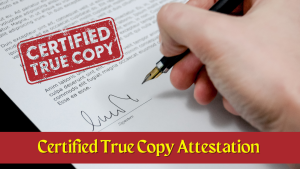 Certified True Copy Attestation in Dubai & UAE
We at Frontline Translation, are the leading certified true copy Dubai service provider. We at the frontline, offer a wide range of translation services in Dubai for individuals and businesses, including legal, medical, technical, financial, and more. Our team of highly skilled and experienced translators is committed to delivering accurate and timely translations to our clients.
We are a team of experienced translators and notaries who specialize in providing accurate and reliable translation and true copy attestation in Dubai & UAE for a variety of documents including legal contracts, academic transcripts, immigration papers, and more.
Know about Certified True Copy Dubai
One of the most important services we offer is certified true copy Dubai. This service is essential for anyone who needs to prove the authenticity of a document. In simple terms, a certified true copy is a photocopy of an original document that has been verified and attested by a notary public or other authorized authority as a true copy of the original.
The certified true copy attestation in Dubai or UAE is significant because it provides legal proof that the copy is an accurate representation of the original document. This is especially important in cases where the original document cannot be produced for legal or practical reasons.
Certified true copy attestation is an important aspect of document verification that is required in many legal and official procedures. A certified true copy attestation is a process of authenticating a document by a notary public, lawyer, or authorized government official, who verifies that the copy is a true and accurate representation of the original document.
Why Choose Frontline Translation?
At Frontline Translation, we understand the importance of certified true copy attestation, and we are committed to providing our clients with reliable and accurate attestation services in Dubai & UAE. Our team of experts has years of experience in attesting to a wide range of documents, including passports, academic certificates, employment letters, and more. We work closely with our clients to ensure that their documents are attested quickly and accurately, and we provide them with the necessary support and guidance throughout the process.
In addition to attestation services, we also offer comprehensive language translation services in over 100 languages. Like French Translation in Dubai and German Translation in Dubai. Our team of expert translators is fluent in a variety of languages and is well-versed in the specific terminology and language nuances of different industries. We provide accurate and reliable output.
Hence, Certified true copy attestation is an important service in Dubai & UAE that provides legal proof of the authenticity of a document & We at Frontline Translation offer reliable and affordable attestation services that our clients can rely on. Contact us today to learn more!