Italian translation in Dubai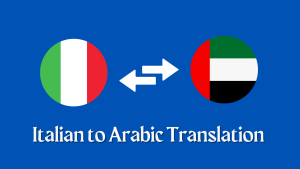 Why Italian Translation in Dubai is the Most Preferred Translation?
For Italian translation in Dubai! We are your one-stop shop for all your translation needs, providing high-quality translations from Italian into Arabic and vice versa. Our team of expert translators has years of experience in the field, and we are committed to providing you with accurate, reliable, and timely translations that meet your specific requirements.
Whether you need to translate legal documents, technical manuals, marketing materials, or any other type of text, we have the expertise to handle your project with the utmost care and professionalism. We understand that accurate translation is critical to your success, which is why we work closely with you to understand your needs and provide customized solutions that meet your exact specifications.
While providing Italian translation in Dubai, we pride ourselves on delivering high-quality translations that are both accurate and culturally appropriate. We understand the nuances of both Italian and Arabic cultures, and we take great care to ensure that our translations are culturally sensitive and appropriate for your target audience.
As a leading provider of Italian translation services in Dubai, we understand that legal translations require the utmost precision and attention to detail. That's why we are proud to offer our Italian translation services in Dubai, including certified translations for all types of legal documents. We work closely with our clients to ensure that all translations are accurate and compliant with local laws and regulations.
Frontline Translation is our prime in Italian legal translation services for documentation. With years of experience in the industry, they have earned a reputation as a trusted provider of accurate and reliable translations. Their team of expert translators is fluent in both Italian and Arabic Legal Translation Dubai, and they have extensive experience translating legal documents for clients in a wide range of industries.
Whether you need a translation of a legal contract, court documents, patents, or any other legal document, Frontline Translation can provide you with the high-quality translations you need. They understand the importance of accuracy, precision, and confidentiality in legal translation, and they are committed to delivering exceptional service and results to their clients.
In conclusion, our Italian translation services in Dubai are your go-to destination for accurate, reliable, and culturally appropriate translations. With our expert team of translators and our commitment to delivering exceptional service, we are confident that we can meet all of your translation needs.
Contact us to know more and get your Documentation done with ease today!